News from our calibration laboratories
We are constantly developing ourselves and our calibration portfolio for you, keeping your requirements in mind. Learn more about our latest innovations from our laboratories here.
Our specialists and calibration experts strive to continuously develop our service portfolio. We always have the requirements of our customers in mind and try to meet the growing and changing needs. Here we offer you an insight into the extensions and optimizations of our calibration scope. Do you have requirements that we have not been able to cover so far? Talk to us, we will be happy to advise you.
News from the mechanics laboratory
February 2022 - Measuring range extension of our torque calibration
The calibration of screwdrivers at low torques is now possible with our new torque test bench. Our mechanical laboratory has extended its calibration range downwards from 0.1 Nm to 0.01 Nm and thus, covers an extensive torque range from 0.01 Nm to 3000 Nm.
The measuring station is equipped with the latest measuring technology and is optimally designed for calibration processes according to DIN EN ISO 6789:2017. The factory calibration of your screwdrivers is carried out independently of the manufacturer and with short throughput times.
Soon available: DAkkS-accredited torque calibration in a measuring range from 0.01 Nm to 1000 Nm.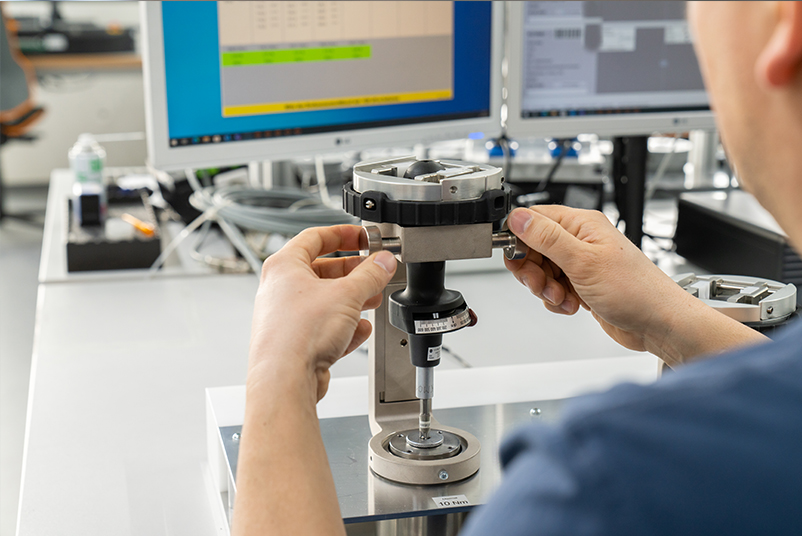 May 2021 - Temperature based pressure calibration
Calibrations at Testo Industrial Services take place in permanent laboratories in a climate-controlled environment. However, these standardized laboratory conditions often differ from the actual operating conditions of the measuring devices at your site. To counteract these divergences, we have created the possibility of temperature-dependent pressure calibration in our laboratory.
In the test stand specially developed for this service, it is possible to calibrate up to 20 transmitters in parallel and fully automatically. Calibration is carried out in a temperature cabinet, and the desired temperature measuring points in the range from -30 °C to 120 °C can be easily approached and kept constant.
With the aid of a pressure controller, the desired pressure range is applied to the measuring device inside the temperature chamber. The controller has a control range of -1 to 210 bar.
The pressure-temperature cycle is run fully automatically during calibration. Depending on the measuring range, the current ISO calibration can be offered with a measurement uncertainty of < 0.02 % FSO.
With more service and more security we are already working on the extension of a DAkkS accreditation.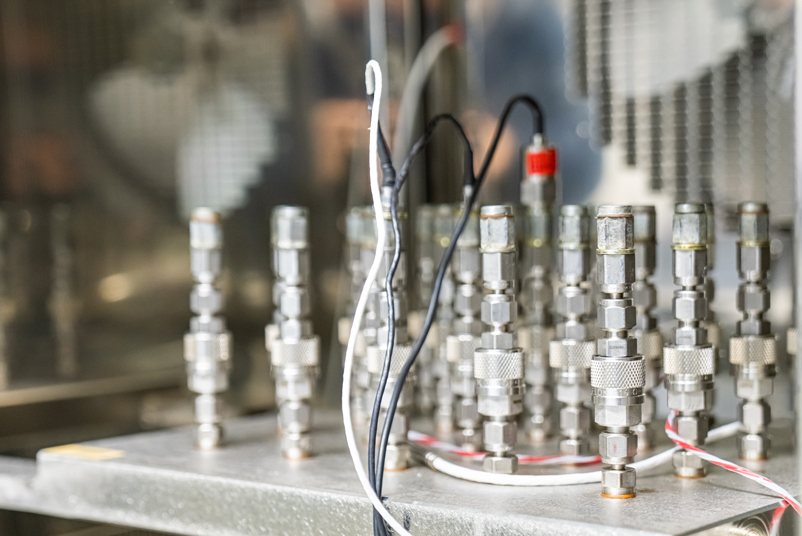 March 2021 - Calibration on the angle of rotation test bench
The mechanical laboratory of Testo Industrial Services offers calibrations of direct and indirect measuring rotary angle systems including an accreditation according to VDI/VDE 2648 by means of a specially designed rotary angle test bench. This extension allows a full calibration of torque sensors with angle option in the measuring range of 0-360° with a measurement uncertainty of 0.06° (direct) or 0.5° (indirect), as well as the calibration of torque analysis wrenches. Only a few calibration laboratories in Germany offer accredited coverage of both standard sections.
We can calibrate the following example measuring instruments on the angle of rotation test bench:
Direct measuring angle of rotation measuring systems
Wachendorff WDG
Schatz 5413-1200
Burster 86403-5012
Indirect measuring angle of rotation measuring systems
Stahlwille 713/40
GWK Quantec MCS
SCS Freedom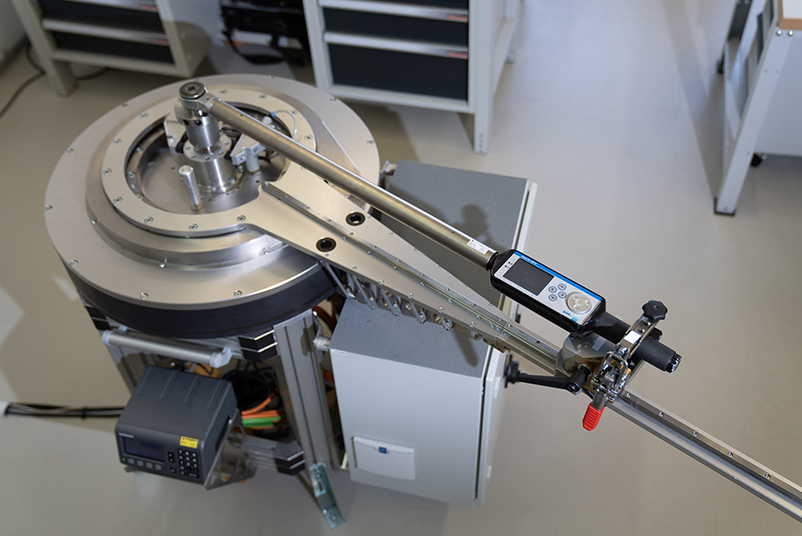 News from the dimensional laboratory
July 2021 - New service: Coordinate measuring technology and 3D scanning processes
On 01 July 2021, Testo Industrial Services not only expanded the scope of services in the dimensional laboratory, but also gained a new location with high-precision measuring equipment and the know-how of technical experts. Optical and tactile measurement combined. Testo Industrial Services GmbH is now able to precisely measure individual components with four high-precision coordinate measuring machines (CMMs) and create inspection reports.
The new metrology is rounded off by accredited ISO and DAkkS calibrations of prismatic workpieces up to 3 m with low measurement uncertainties.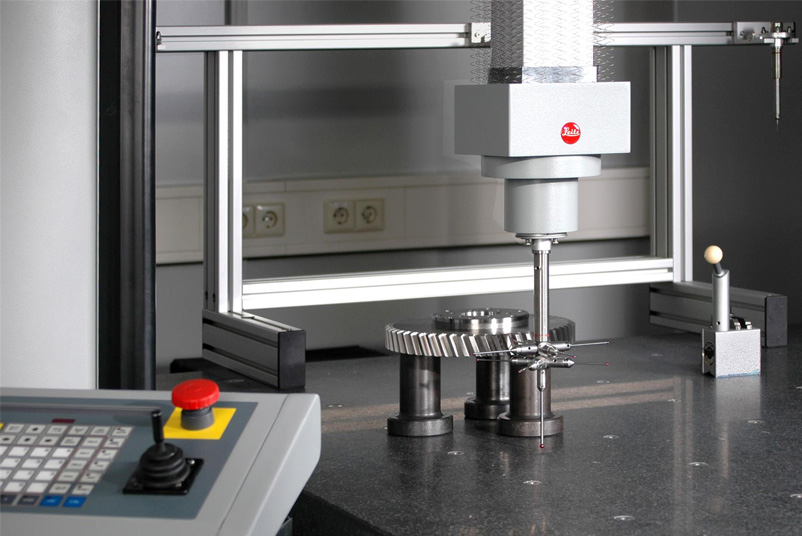 News from the flow laboratory
June 2021 - Calibration of smallest liquid flow rates
Our highly specialized flow experts have developed the flow laboratory of Testo Industrial Services over the past years. The calibration of smallest liquid flow rates requires exactly this expert know-how and is therefore offered in only very few laboratories worldwide.
We have extended the calibration range of our specially developed piston calibrators downwards in order to calibrate even smaller flow rates. The smallest member of our calibrator family (KKF 50) can be operated at flow rates from 0.15 ml/min (this corresponds to approx. 5-9 Drops/minute). In addition, the fluid selection is variable and includes viscosities from 0.8mm2/s. A temperature control of the medium is also available.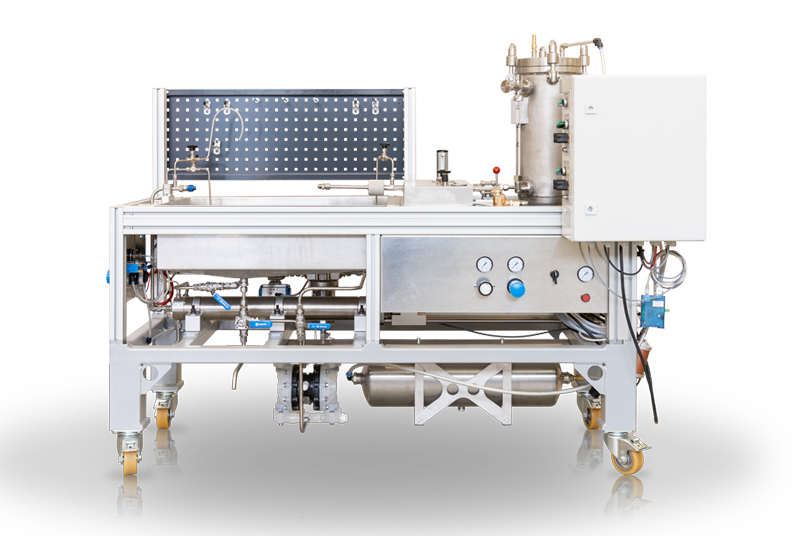 Your advantages: Our competence
Measurement of very small quantities in the field of dosing with low measurement uncertainty
Very fast and accurate measurement with high repeatability
Optimum reproducibility of real ambient and temperature conditions
News from the electrics laboratory
June 2021 - Extension of the calibration range of current transformers for DC and AC
Due to the expansion of our measuring station, we can guarantee you an extended calibration range of 4000 A direct and alternating current incl. phase angle for the calibration of your current transformers in the future. Due to a defined cable routing, high currents can be realized with few windings. Frequencies of up to 10 kHz can be converted. Due to the sampling method used, measurements of any signal shape are possible.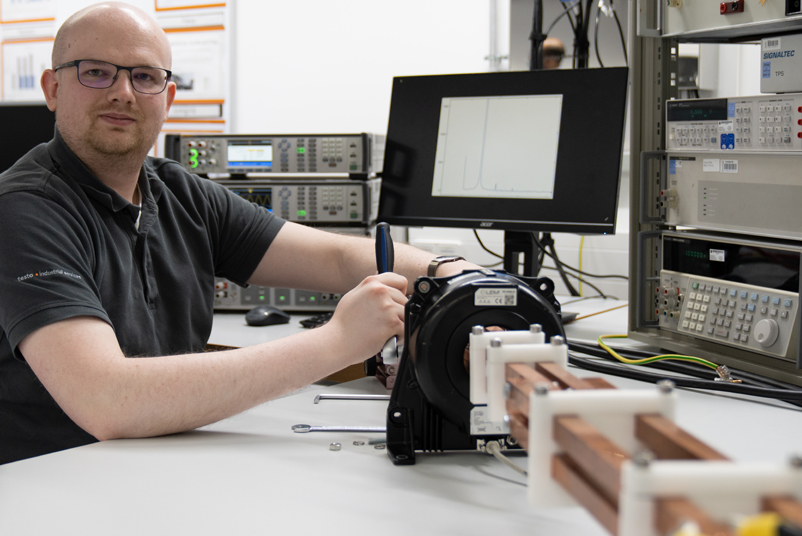 News from the acoustics laboratory
April 2021 - Calibration of artificial heads
Acoustic dummy heads are head replicas in which two acoustic measurement microphones are installed. This enables binaural sound recording of sound signals. Due to the shadowing effects of the head as well as sound differences between the two microphones, an accurate and true-to-condition transmission of sound events is guaranteed.
In the acoustic laboratory of Testo Industrial Services we offer the calibration of artificial heads. The determination and evaluation of the transfer coefficient at frequencies between 250 Hz and 1000 Hz are included in the accredited calibration scope. A frequency response measurement in the free field chamber and/or pressure chamber is possible by arrangement.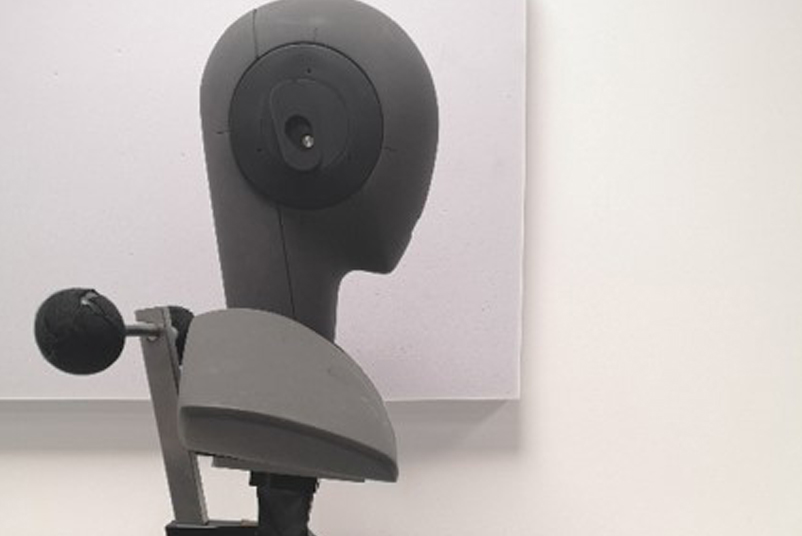 News from the flow laboratory
December 2020 - Our know-how in flow calibration directly at your site
The flow laboratory of Testo Industrial Services is specialized and accredited for on-site calibration of your equipment. The determination of the flow of gases and liquids plays a decisive role in many industrial sectors. In doing so, we take into account your individual requirements regarding the operating conditions (medium, temperature, pressure), your flow control, the mechanical adaptation into a Pipeline and much more.
When calibrating within your overall system under real operating conditions, we have the interaction of individual sensors in view at all times and, in addition, expensive downtimes of individual components are eliminated. With the help of the many years of experience of our experts, we sound out your plants and processes on site in order to make the ideal decision for a smooth calibration.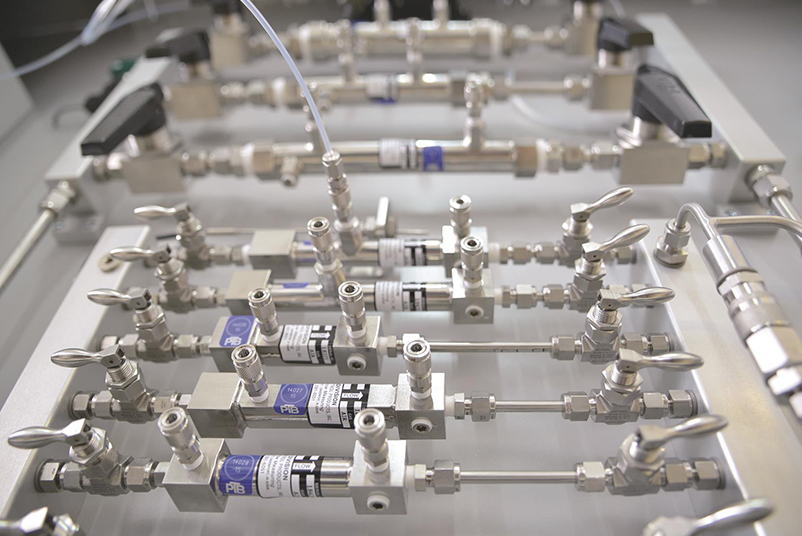 News from the electrical laboratory
November 2020 - Full calibration of your HF devices at your site on site
In the field of high frequency, Testo Industrial Services offers an extended scope of accreditation. Our DAkkS accreditations are recognized for on-site calibrations and cover the calibration of your spectrum analyzers, power sensors, calibration kits and EMI receivers. The exchange of calibration kit data in the formats for e.g. Keysight, Rohde & Schwarz and Anritsu is possible on a data basis in the VNATools II format.
The manufacturer-independent calibration according to VDI 2622 and EURAMET also includes the calibration of the common connector types, such as N and PC 3.5, as well as the essential RF basic quantities reflection, power, attenuation, modulation and many more. With the extension of our on-site offer, we guarantee you a fully comprehensive and standard-compliant calibration of your EMC devices.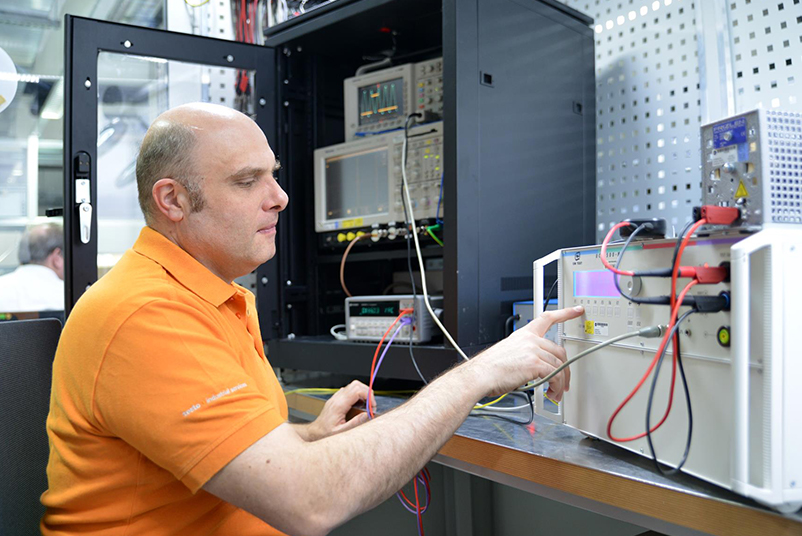 News from the thermodynamics laboratory
October 2020 - New primary standard in the field of humidity
The exact calibration of humidity measuring instruments requires the highest metrological know-how. With the applied humidity generator and dew point mirror we assure you a measurement uncertainty of 0.8 % rH. We calibrate not only your humidity sensors and loggers but also your measuring instruments and much more. By our visit at your site a complete recording of your data is guaranteed.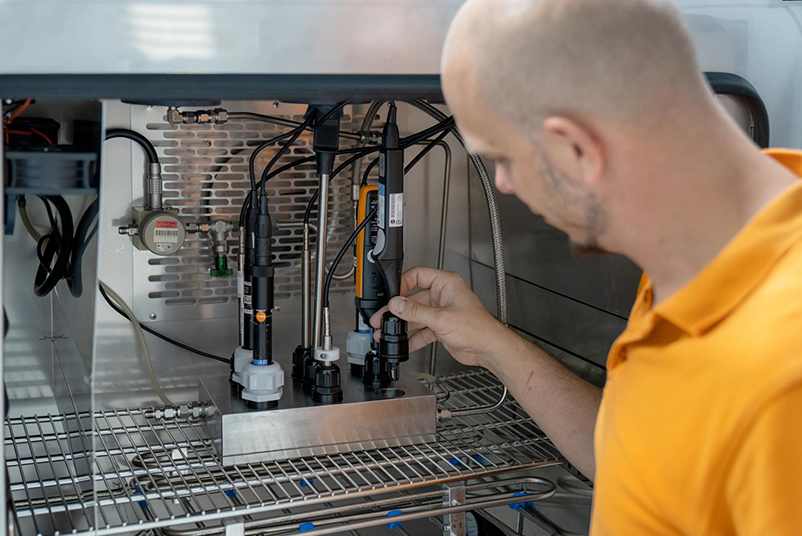 News from the mechanics laboratory
August 2020 - Calibration according to SAE J211-1 standard
Guidelines and recommendations for the measurement methods used in impact testing in the automotive industry are described in the SAE (Association of Automotive Engineers) document J211-1. The aim is to achieve a uniform measurement practice and presentation as well as a reporting of results.
In the mechanical laboratory of Testo Industrial Services we offer accredited calibration of accelerometers and conformity assessment according to the J211-1 directive.