Validation of manual processes in medical technology
Do manual processes need to be validated in the same way as automated processes and what can a pragmatic validation approach to this look like? This is a question that is often asked by quality assurance, because the goal is safe and robust processes.
According to the regulatory requirements of ISO standard 13485 and the Quality System Regulations of the FDA, processes whose process results are not (sufficiently) verified or cannot be verified require validation - regardless of whether the process involves manual activities.

Manual processes must therefore be considered in exactly the same way as automated processes. In the first step of a validation of these processes it should be determined which product parameters are relevant and only for these parameters the processes should be validated. If possible, variable (continuous) data should be used to determine process capability.

When performing validation, proceed in the same way as for process validation for automated processes. Starting with a detailed process flow diagram on which a risk analysis is based, the necessary tests are defined for the qualification steps IQ, OQ and PQ.

Carrying out a validation of a manual process step
The structure of validation does not differ from the structure of automated processes. Firstly, a flow chart of the work steps with auxiliary equipment and equipment requiring calibration is drawn up. This is followed by the performance of a risk analysis and finally the validation according to the established procedure (IQ, OQ, PQ), whereby the suitability of the test method used is of great importance. The chosen test method should therefore also be validated as part of the PQ.
Based on the data obtained, statements should first be made about the process capability of a process. This analysis data can be divided into two groups:
Attributive data (properties)
Variable data (quantity) 
Variable data can be further subdivided into discrete (integrity values) and continuous (arbitrary numeric values) data. In principle, an attempt should be made to obtain variable, continuous data, as this enables the best possible calculation of the process capability.
Our service for you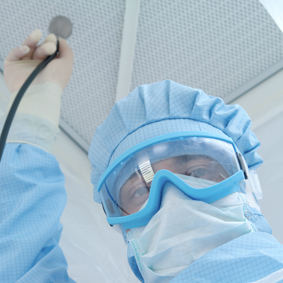 Performance of test procedures in clean rooms according to DIN EN ISO 14644-3:2020-08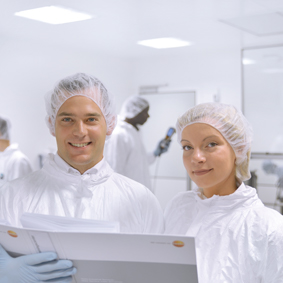 Clean rooms, plants and utilities, transport, and storage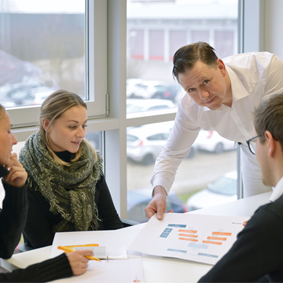 Cleaning, process, transport, computer, and software validation