PRIMAS validated - Validated test equipment management for GxP-regulated areas
PRIMAS validated is a validatable, internet-based system for the management of test equipment for companies with GxP compliance requirements from the medical technology and pharmaceutical sectors.
The system is an IT module of the integrated PRIMAS test equipment management solution. In PRIMAS, calibration, logistical solutions and documentation management of your test equipment are interlinked. PRIMAS validated was explicitly designed to meet the requirements of the GxP-regulated environment for test equipment management. PRIMAS validated focuses on integrity, security and efficiency in test equipment management.
Data security and data integrity: Extensive security measures ensure a high level of data security and data integrity. Data storage on Testo Industrial Services' own servers in Germany and an authorisation concept tailored to your requirements are just two examples.
Innovative functions: Digitisation and automation lead to lean and robust processes in the daily work of your test equipment management.
Compliance: Optimise and secure your test equipment management processes in accordance with the requirements of DIN EN ISO 13485:2016, 21 CFR 820.72 and ISO 9001.
Risk-based validation of the system: Field tested validation and revalidation services ensure the validated state throughout the entire system life cycle and guarantee you maximum security in the event of an audit. The validation is professionally supported by our industry experienced validation team with GxP compliant documentation and comprehensive know-how.

We would be happy to give you a detailed insight into PRIMAS validated. Arrange an individual presentation appointment with our PRIMAS experts today.
One system - many advantages
Compliance and audit security
With PRIMAS validated you are on the safe side and fulfil all relevant normative requirements for test equipment monitoring and management from DIN EN ISO 13485:2016, 21 CFR 820.72 and ISO 9001. The GMP-compliant validation package from Testo Industrial Services includes a compliance assessment for EU GMP Guideline Annex 11 and 21CFR Part 11 and ensures the validated state throughout the entire system life cycle. Our industry-experienced validation team offers you the necessary flexibility and know-how for your validation project.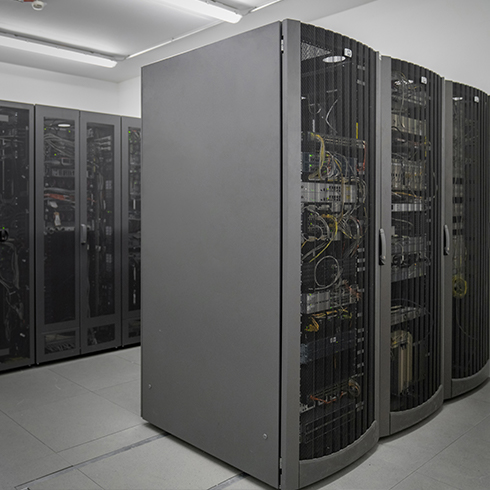 Data security
To meet your high data security requirements, we take extensive measures. These include daily backups of your test equipment data and calibration certificates as well as data storage on Testo Industrial Services' own servers. The spatial and temporal mirroring of the data servers provides additional security. Due to our local data storage, there is no dependence on external cloud providers and the unrestricted data sovereignty lies with you and Testo Industrial Services. PRIMAS validated guarantees you a secure system without data loss.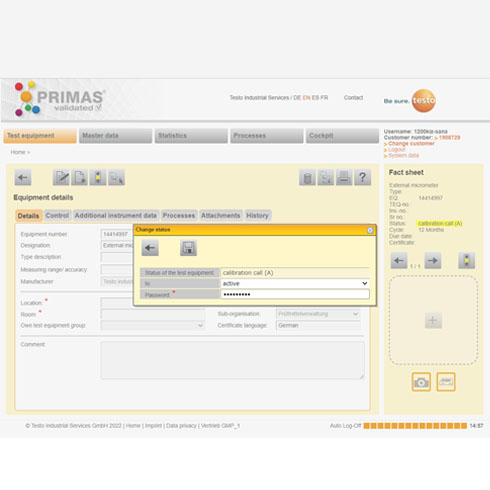 Data integrity
Thanks to the automatic documentation in audit trails, all quality-relevant processes and changes in the system are fully traceable. You always have an overview of which employee made changes in the system at what time. In addition, PRIMAS validated provides you with a comprehensive authorisation concept. Assign user authorisations to your employees quickly and easily and thus specify who can see and edit which information. In the case of significant changes as well as when releasing your test equipment, the additional password query forms a further security level.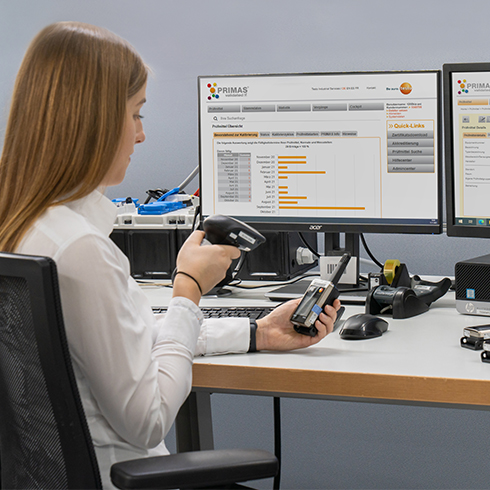 Process optimisation and administration
Take advantage of our full-service offer for manufacturer-independent calibration of all your test equipment/measuring points. Automated and paperless processes in test equipment management and calibration increase the efficiency of your processes. In addition, Testo Industrial Services takes over the administrative tasks for you. We create new users during operation and assign access rights (write, read and certificate access) according to your authorisation concept. You benefit from minimal administrative effort in the event of personnel or organisational changes in your company. Put user administration in the safe hands of Testo Industrial Services.
Validation
The validation of PRIMAS validated is carried out according to the specifications of GAMP® 5 and ensures the validated state throughout the entire life cycle. You are professionally supported by our industry-experienced validation team with GxP-compliant validation documentation and comprehensive know-how. Learn more about PRIMAS validated's risk-based. Our expert for computer and software validation, Dr. Susan Spiller, gives you a detailed insight into our validation approach according to GAMP® 5. Susan is only responsible for DE!
Individualisation and usability
PRIMAS validated allows you to clearly map your company structure with sub-organisations (e.g. different locations). Your employees can be assigned to the corresponding sub-organisations and thus, for example, be given the right to view and change master data only at the level of their sub-organisation. To monitor calibration and maintenance due dates, an escalation scenario defined by you is stored in the system. Here you can store up to four reminders with different escalation levels and ensure the timely calibration of your test equipment. Individual data reports give you an overview of all relevant information and the development of your test equipment at all times.
Scalability
Integrate an unlimited number of test equipments and users into PRIMAS validated quickly and easily. The system always adapts to your needs, regardless of how many test equipments you want to manage.
Modular design
Combine PRIMAS validated with the calibration and logistics solutions of our modular test equipment management PRIMAS and benefit from an ideal interaction of calibration, logistics and organisation of your test equipment.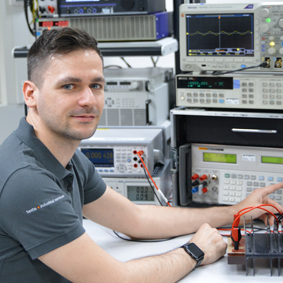 We are your full-service calibration provider for DAkkS calibrations and ISO/factory calibrations.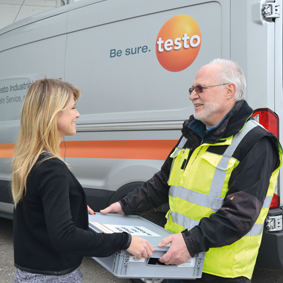 We transport your high-quality test equipment safely and quickly.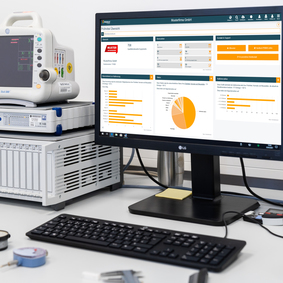 Our holistic test equipment managment solution for compliance with standards and guidelines.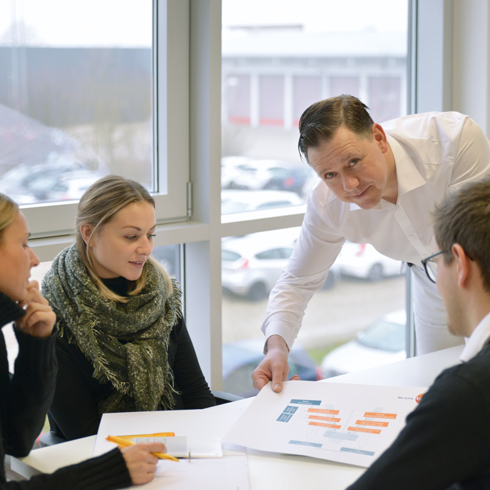 Validation concept
Through a standard-compliant validation package according to the specifications of GAMP 5®, we ensure the validated state throughout the entire life cycle. Get detailed information about the implementation and documentation of risk-based validation from PRIMAS validated.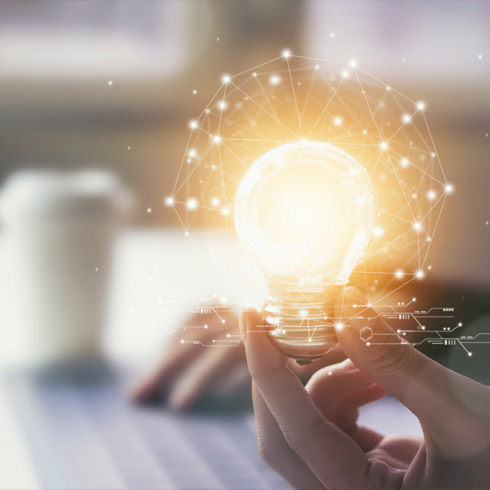 Know-how
Our technical articles provide you with expertise on the topics of calibration and test equipment management as well as validation, qualification and compliance services. In our Knowledge Centre you will find answers from our experts to numerous questions from our specialist areas.