What is test equipment management/ monitoring/ administration?
The following knowledge page answers questions on the subject of test equipment management, monitoring and administration. In addition, you will receive information about our test equipment management solution PRIMAS.
Here you will find answers to the following questions:
What does test equipment monitoring / measuring equipment monitoring mean?
The test equipment management is part of the quality management. It is aimed at ensuring and maintaining the quality, reliability, operational capability and readiness of the test equipment in a company. Monitoring should enable test equipment to perform as required at all times. Thus, test equipment management is a method for increasing process capability.
Why test equipment management?
The subject of test equipment management/test equipment monitoring is an area in the company which is of very great importance. Due to the increasing number of standards and directives to be fulfilled, globalisation and the increasing quality awareness, ever higher demands are also being placed on test equipment. To meet these requirements, test equipment must be calibrated, monitored and managed.
Learn more about test equipment management at Testo Industrial Services:
What is the PRIMAS test equipment management solution? 
PRIMAS from Testo Industrial Services offers you the holistic solution, because it is based on partnership cooperation between customers, Testo Industrial Services, suppliers and logistics partners. In PRIMAS, calibration and documentation management are intertwined. The integration of our logistics solution as well as a simplified organisation round off the test equipment management solution.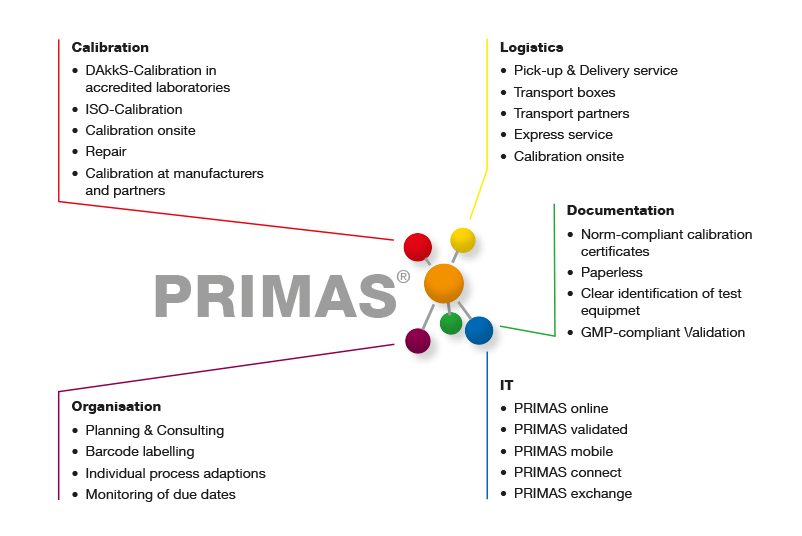 What are PRIMAS IT solutions?
The PRIMAS IT module contains our IT solutions for your test equipment management. Depending on customer requirements PRIMAS offers internet-based and/or mobile access to various test equipment data, data exchange via VDI/VDE 2623 between your specific MES/CAQ system and your calibration service provider and various web services for fully automated information retrieval.