Establishment of a GMP monitoring concept in the pharmaceutical manufacturing sector
The establishment of an audit proof GMP monitoring concept to monitor compliance is of fundamental importance in pharmaceutical production. Here, the requirements should be carefully defined in advance.
An example of such a project for the creation and introduction of a monitoring concept is a joint qualification project of Boehringer Ingelheim Pharma GmbH & Co. KG and Testo Industrial Services GmbH serves as an example.
The focus is on the establishment of a GMP monitoring concept for the operational phase in the pharmaceutical environment and its optimisation based on empirical values. Comparable monitoring activities have been established in some areas of Boehringer Ingelheim since 2002. This is illustrated by the example of a new building project with the definition of specific requirements and subsequent qualification of a clean room area class D (rooms incl. the supplying air handling unit (AHU)) according to Annex 1 EU GMP guideline as well as the existing clean media. In addition, documentation examples of various plans from Boehringer Ingelheim (GMP room book, clean room zone plan, pressure stage plan, monitoring calendar and sampling plan) as well as background information on these are presented. The analytics used and the sensors installed in the systems are not discussed.
Our service for you
Conceptual design and development of the User Requirement Specifications (URS)
Project management on site
Holistic risk-based processing of Qualification projects
Qualification of plants & utilities
Clean Room Measurements: Climate, pressure, flow and particle measurements as well as microbiological monitoring
Ensuring patient safety is the primary goal
In the foreground of all measures taken within the described project is the guarantee of patient protection. Ensuring reproducibility in the manufacture of the various pharmaceuticals over decades with the corresponding knowledge and robustness of the manufacturing processes is essential for this. The same applies to traceability in measurement technology and analytics to international norms (also known as references or standards) as well as complete documentation in accordance with the specifications of "Good Manufacturing Practice" (GMP). In the end, optimisation of operating costs and energy-saving measures should also be taken into account.
Testo Industrial Services is your reliable partner for qualification, validation, calibration and other GxP services. Contact us - together we will create an individual concept for your needs.
Our services for you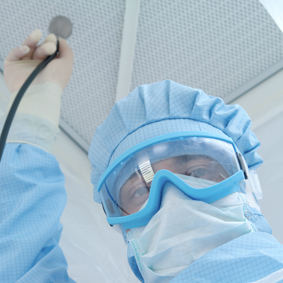 Performance of test procedures in clean rooms according to DIN EN ISO 14644-3:2020-08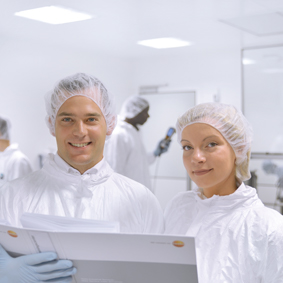 Clean rooms, plants and utilities, transport and storage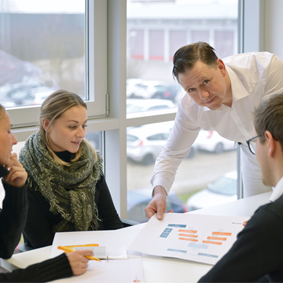 Cleaning, process, transport, computer and software validation