Qualification of cleanrooms in sterile production for EVER Pharma Jena GmbH
Testo Industrial Services supports EVER Pharma Jena GmbH in the qualification/requalification of its cleanrooms 1,600 square meters. Qualification is carried out in accordance with DIN EN ISO 14644 and the EU GMP guidelines (Annex 1 & 15).
EVER Pharma Jena GmbH is part of the EVER Pharma Group, headquartered in Austria. The Group's focus is on research, development, manufacture and marketing of products in the fields of neurology and specialising in injectables (such as oncology, intensive care, hormone therapy, pain therapy). Injectable medicines are manufactured at the Jena site.
In the new building of the company, Testo Industrial Services took over the initial cleanroom qualification of the four sterile production facilities (classes A-D), which are spread over three floors.

In addition to the clean rooms, this also includes corresponding airlock areas, sampling and weighing areas as well as the CNC (Controlled-Not-Classified) area.
We were very satisfied with the cooperation with Testo Industrial Services on our new building.
As is the case, a number of changes and challenges arose during the project phase, which Testo Industrial Services has always mastered very flexibly and, to a certain extent, "on the fly" together with us. It was a close cooperation that worked very well - and that with this high measurement effort on our new large cleanroom area. In the meantime, we are already working together on a strategy to ensure the requalification of the rooms, so we are happy to continue working together

Michael Böhme
Engineer Qualification
(clean rooms)
Ever Pharma Jena
Your advantage: Our expertise
Production expansions and conversions: Implementation of cleanroom qualifications
Annual requalification of all cleanrooms according to DIN EN ISO 14644-1/Annex 1 & 15
Development of customer-specific measurement methods adapted to the structural conditions, taking into account the applicable standards
Dedicated GxP services team on site, thus minimizing coordination effort
Adaptation of the documentation structure to the customer-specific standard and handover of the documentation immediately after completion of the measurements
Learn more about this success story and take a look at the reference project.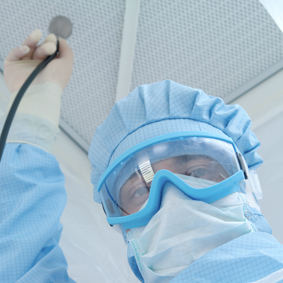 Security and compliance for your cleanrooms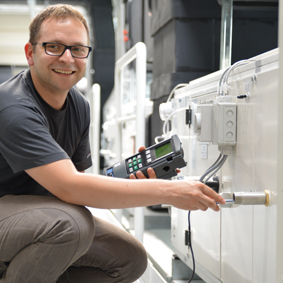 Overcoming distances and reducing downtimes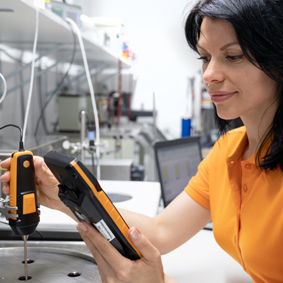 Your partner for calibration, test equipment management, qualification, and validation