Calibration of analytical measurands
Our calibration service in the field of analytical measuring instruments covers a diverse and complex range of different measurands and measuring instruments, which are used in almost all branches of industry.
An extensive and fully equipped analytical calibration laboratory is part of Testo Industrial Services. We carry out calibrations in the field of gas analyses and other chemical analyses completely independent of manufacturers. Gas analysis includes the calibration of gas detectors and gas leak and refrigerant testers. Calibration of pH, conductivity and frying oil testers are among the other chemical analyses. Here we calibrate your pH meters and conductivity meters with our high-precision equipment.
Our DAkkS accreditations in the analytical laboratory cover chemical and medical measurands in the field of conductivity and for pH values. Take a look at our accreditation certificate.
Your advantage: Our competence
Smallest measurement uncertainty for DAkkS calibrations in the pH range from 0.03 pH
Smallest measurement uncertainty for DAkkS calibrations in the conductivity range from 0.3 %
Calibration of CO-, CO2-environment measuring instruments
Our innovations:
Full DAkkS accreditation for conductivity and pH calibrations
Calibration of CO measuring instruments
Gas analysis
Gas analyses are carried out in many industries and sectors to investigate the composition of gases and gas mixtures. Testo Industrial Services has a fully equipped measuring station for the calibration of your gas analysis measuring instruments.
With the aid of reference materials or test gases whose composition is known very precisely and traceable within certain limits, a wide variety of concentrations of gas mixtures such as hydrogen, nitrogen or carbon monoxide can be calibrated.
Calibrations can be carried out on the calibration equipment for gas leak testers, gas detectors and refrigerant leak testers at 1 vol.% for methane (CH4) and on various leak rates at 3 g/a, 5 g/a and 10 g/a. The calibration of your CO2 measuring instruments is carried out in the analytical laboratory at the measuring points 0 ppm, 1000 ppm and 5000 ppm. All portable electrical devices for the measurement of combustion parameters which are certified according to DIN EN 50379-1 are considered to be capable of calibration.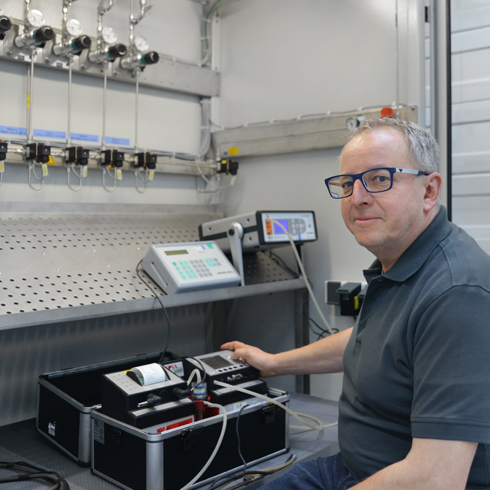 For gas analyses we are specialized in the following measuring instruments:
Flue gas measuring devices
CO probes, CO measuring devices for ambient measurement
CO2 probes, CO2 measuring devices for ambient measurement
Refrigerant and glass leak testers (e.g. testo 316-4, R134a, CPS Leak-Seeker, INFICON D-Tec, Select Inficon, Rothenberger, 200HC)
Gas detectors (e.g. Dräger X-am® 2500, MSA Altair, Sewerin, Afriso)
Overview of the reference gases
Testo Industrial Services is able to perform a gas calibration with several predefined test gases with different concentrations:
O2: 1,5 Vol%, 2,5 Vol%, 5,0 Vol%
CO: 100 ppm; 300 ppm, 400 ppm, 700 ppm, 5000 ppm,
NO: 150 ppm, 300 ppm
CO2: 17 Vol.% , 38,5 Vol%
NO2: 100 ppm
CH4: 5000 ppm, 10000 ppm (1 Vol%)
H2S: 200 ppm
SO2: 100 ppm
Other chemical analyses
In addition to gas analyses, the analytical calibration laboratory of Testo Industrial Services also includes other chemical analyses. This area includes the measurands pH, conductivity and the calibration of frying oil testers.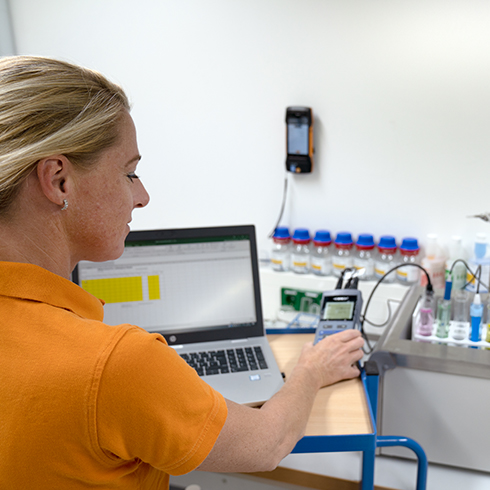 Conductivity measurements
The measurement of conductivity is used, among other things, for the control of the purity of water, for example also of deionized water in cooling circuits but also in connection with glucose oxidase for blood sugar measurement.
At our facilities, we can calibrate your conductivity meters at 1.3; 5; 15; 100; 700; 1413 μScm-1 or 100 mS/cm-1. In this case, the electrical conductivity is determined by means of a resistance measurement.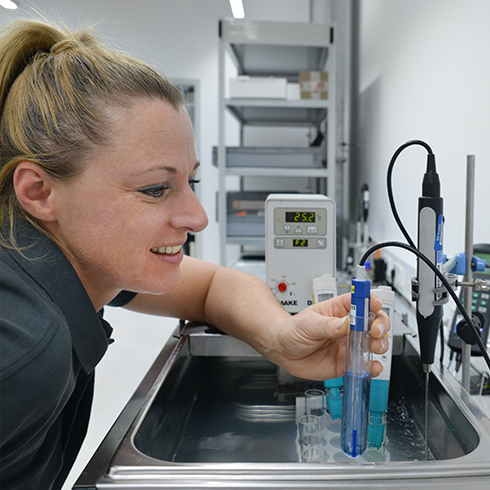 pH measurements
The measurement of the pH value provides a measure of the acidic or basic character of an aqueous solution and is used in many areas:
Food analysis / quality control
Research and development
Water analysis
Medicine
The measuring instruments for measuring the pH value can be calibrated at pH 2, pH 4, pH 7, pH 9, pH 10, pH 11.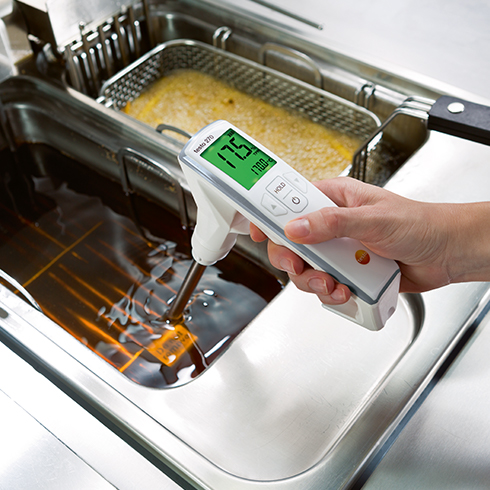 Frying oil measurement
Frying oil testers are used for quality assurance (determination of the degree of contamination) of frying oil. A frying oil tester measures the proportion of so-called "Total Polar Materials" (TPM) in the oil and indicates this as a percentage. Measuring instruments for measuring the TPM value can be calibrated at ± 4% TPM as well as ± 24% TPM. Frying oil testers have their field of application in:
Large kitchens, canteens, large catering companies
Food monitoring, food producers
Large restaurants & fast-food chains
Common manufacturers
The list of common manufacturers of pH and conductivity measuring instruments as well as frying oil testers, which we can operate, is extensive. The following overview offers a small excerpt:
WTW GmbH / Xylem Analytics
Greisinger GHM Group
Hanna Instruments Deutschland GmbH
METTLER TOLEDO
Endress+Hauser Group Services AG
Ahlborn Mess- und Regelungstechnik GmbH
Extech Instruments
Hach Lange GmbH
Knick Elektronische Messgeräte­ GmbH & Co. KG
Thermo Fisher Scientific Inc.
Testo SE & Co. KGaA
VOLTCRAFT / Conrad Electronic AG
Success stories
We support you with your requirements and work towards your goals. Here you will find an overview of our most successful customer projects:

References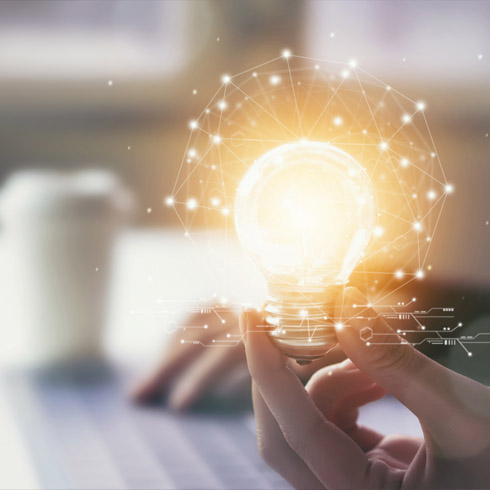 Know-how
Our know-how summarised for you. Either find knowledge from our subject matter experts on the topic of analytical calibration directly in our Knowledge Centre or dive into an appropriate technical article on your topic.
To read
Discover our comprehensive service portfolio. As a full-service provider in the field of measurement technology, we are your optimal calibration service provider.