Calibration of flow measurement variables
In our calibration laboratory for flow meters we carry out manufacturer and media independent calibrations. Our team specialises in high-precision and customised flow calibration solutions.
Industrial flow measurement is becoming increasingly important due to requirements for consistent product quality as well as safety, process optimisation and environmental protection. Due to the wide range of flowmeters, measurement methods and media, standardisation of measurement technology is rare. Consequently, an individual solution is also required for calibration.
From test stand design to software development - highly specialised flow experts with years of experience have built up the flow laboratory of Testo Industrial Services with the highest level of know-how. The versatility of flowmeters used in industry requires a wide range of test rigs and calibrators. Nine specially designed liquid and gas calibrators guarantee you rapid calibration of different flow rates and media. In addition to calibration, we also offer adjustment, programming, linearisation, configuration with original manufacturer software as well as extensive testing possibilities for prototypes.
In addition, we are specialised in the calibration of flow and volumetric flow measuring instruments due to the many years of experience of the entire Testo Group. Highly accurate measuring methods ensure reliable measured values during calibration.
Your advantage: Our competence
Manufacturer-independent: no dependencies and absolute neutrality
Medium independent: Your process fluid in our calibrators
Countless adaptation possibilities (if necessary special designs according to your requirements)
Perfect quality assurance through overlapping measuring ranges of our calibrators
Our innovations:
Calibration of smallest liquid flow rates
Coming soon: Circulation test bench - expansion calibration of water up to >300m3/h
Insight into our flow-through laboratory
Our flow laboratory is characterized by an incredibly high number of measuring principles for flow meters. We always calibrate your devices individually for each customer to meet the requirements of your processes. Convince yourself of our extensive service portfolio.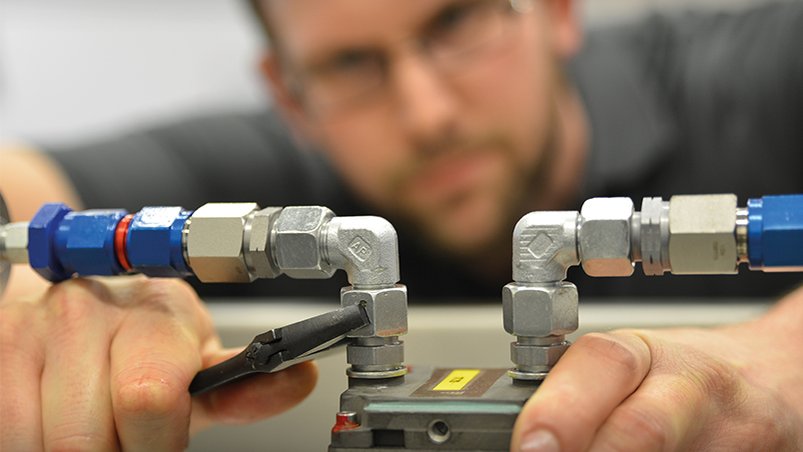 Liquids
In a wide variety of industries, flow measurements of liquids directly determine production operations and quality. Testo Industrial Services has six specially designed test benches that enable calibration of flow meters for liquids from 0.15 ml/min to >300m3/h.
In order to be able to simulate your process almost perfectly during calibration, we do not make use of any conversion tables, but generate, for example, a calibration liquid with the identical viscosity that you also find in your process. This ensures that the measurement results you find on the calibration certificates can be transferred one-to-one into your process. In addition to water, calibration can therefore also be carried out with alcohol or various oils, for example. Our highly specialized personnel will generate the viscosity of your individually used fluid according to your requirements or use your process fluid in our calibrators.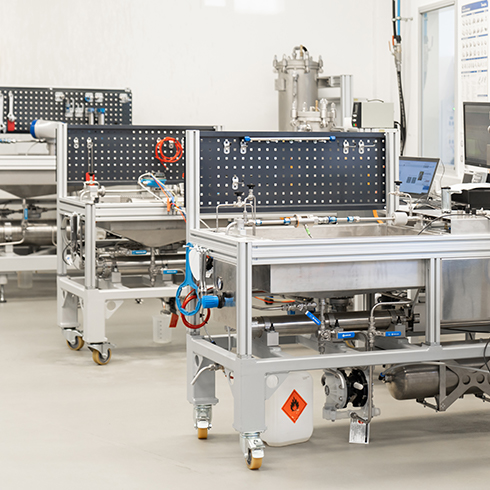 In the field of flow of liquids we are specialized in the following measuring instruments:
Gear counter
Oval Wheel Meter
Spindle flow meter
Piston flow meter
Swash plate
Turbine and impeller flow meters
Ultrasonic flowmeter
Coriolis flow meter
Gases
The determination of flow for air and inert gases plays a decisive role in many industrial sectors and is often used directly for quality assurance measures.
Testo Industrial Services can calibrate your flow meters for gases from approx. 1 ml/min up to 900 m3/h with a measurement uncertainty of up to 0.22 % of MW. Our test rigs are based on the technology of laminar flow elements (LFE), critical nozzles or piston displacers. The different procedures and designs of our test benches enable, among other things, calibrations for flow meters with a strong pressure dependency. Maximum inlet pressures of up to 14 bar can be achieved. It is also possible to calibrate with gases other than air.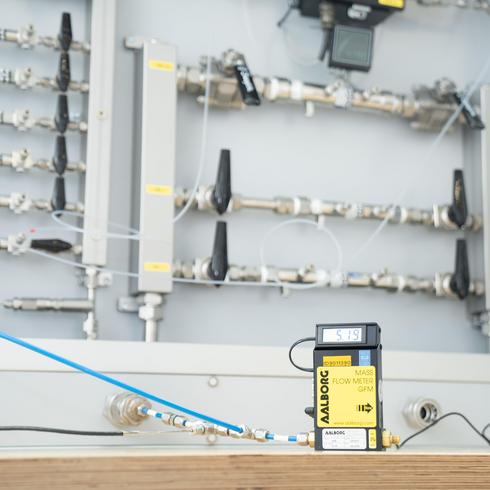 In the field of gas we are specialized in the following measuring instruments:
Piston flow meter
Gas clocks
Turbine and impeller flow meters
Thermal mass flow meters
Laminar Flow Elements (FLE)
Leak calibrators
Leak detector
Flow & Volume flow
In a specially developed wind tunnel, Testo Industrial Services calibrates your flow measuring instruments using the most accurate and reliable flow measuring method - laser Doppler anemometry (LDA). This LDA measuring method is characterized by its contactless and thus interference-free measurement, so that a high measuring accuracy of the respective measured flow velocity can be guaranteed. Flow probes of different types can be calibrated in this channel from 0.1 to 68 m/s with a measurement uncertainty of 0.5%.
If technical gases, liquids or even compressed air are used in companies, precise recording of consumption by means of various volumetric flow meters is essential. In another specially designed wind tunnel, Testo Industrial Services calibrates volumetric flow meters with up to 1800 m3/h.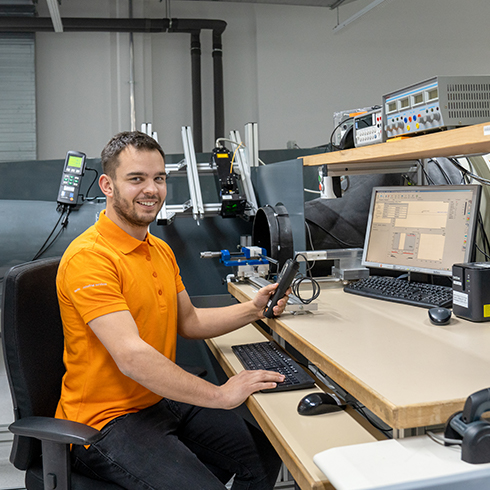 In the field of flow & volumetric flow we are specialized in the following measuring instruments:
Hot-wire anemometer
Vane anemometer
Heat Sphere Anemometer
Pitot tube
Volumetric flow meter
Success stories
We support you in your projects and are committed to your goals. Here you will find an excerpt from the references of our successful projects: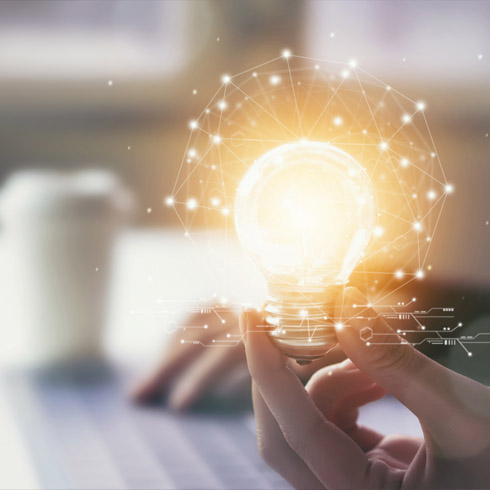 Know-how
Our know-how summarised for you: In our Knowledge Centre you will find helpful know-how from our experts or dive into interesting technical articles about calibration.
To read
Discover our comprehensive service portfolio. As a full-service provider in the field of measurement technology, we are your optimal calibration service provider.