Qualification of a sterile filling
For CSL Behring GmbH Testo Industrial Services took over the clean room qualification as well as the qualification of ventilation systems, autoclaves, freeze drying systems, filling line as well as the incubation rooms.
CSL Behring is one of the world's leading manufacturers of plasma derivatives. The company supplies the world market with its products and produces almost one fifth of all plasma based drugs worldwide.
As part of the "Filling & Lyophilisation" project at CSL Behring GmbH in Marburg, new filling lines were set up for the production of coagulation preparations and preparations for wound healing. With the ventilation systems (HVACs) and the subsequent filter systems, a total of over 1,000 m² of clean room space was created for production. The cleanroom classes range from A to D.
Testo Industrial Services was commissioned with all work in the area of plan preparation and its processing within the scope of the qualification. The measures covered both the integration of the FAT and SAT documents supplied by the manufacturer and the customer specific preparation of the qualification documentation (IQ, OQ, PQ). In the project, both the clean rooms/ventilation systems and the entire process technology were qualified.
Your advantage: Our competence
Carrying out measurements as part of cleanroom qualification: Filter leak test, volume flow, flow velocity, room air exchange, recovery time measurement, rel. humidity & cleanroom classes
Qualification of ventilation systems incl. integration and testing of SAT documents
Qualification of the autoclave technology (IQ/OQ/PQ) incl. validation of the loads/programs
Qualification of the freeze drying plants (GT plants)
Qualification of a filling line as well as support of the validation of the filling process (PQ)
Qualification of the incubation rooms
The result
The qualification of the clean rooms/ventilation systems and the entire process technology of the new filling lines was adapted to the project. The use of experienced personnel and flexible equipment planning ensured that everything ran smoothly.
More about our services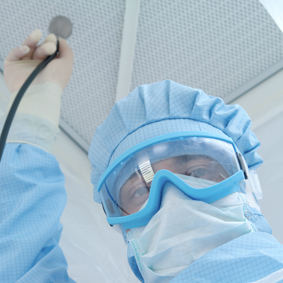 Security and compliance for your cleanrooms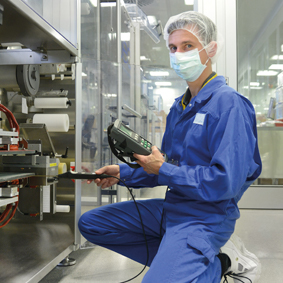 Risk-based qualification of air handling units, process gases, sterilisers, water and water systems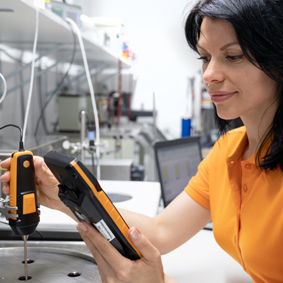 Your partner for calibration, test equipment management, qualification and validation