Huminator II
Easy and precise humidity calibration with the Huminator II precision humidity generator for your manufacturer independent humidity and temperature measuring instruments, probes and data loggers, whether on site or in the laboratory.
The Huminator II is a compact and portable calibration system for manufacturer independent humidity calibration of your measuring instruments. It can be used flexibly for various industrial and laboratory tasks and at the same time can be used for different service purposes, mobile or stationary. The large measuring chamber with a diameter of Ø 160 mm enables the parallel calibration of up to 5 probes or loggers. At the same time, the time-based programming function allows extensive automation of calibrations. Up to 10 humidity/temperature values per measuring program can be generated automatically one after the other and the stability time can be freely selected. The integrated reference probe reduces your downtime and enables quick recalibration.
Your advantages at a glance:
Wide temperature and humidity range from 5 °C to 50 °C and from 5 %RH to 95 %RH
Fast and intuitive operation through touch display
Stable measured values due to chamber insulation and high sealing adapter plate
Exceptional performance at high throughput rates and continuous operation
Transportable condition due to fully automatic pumping out
Compact size and light weight
With the Huminator II, temperature and humidity values are set simultaneously. Peltier elements ensure stable, integrated temperature control in the range from 5 to 50 °C. The relative humidity can be controlled in the range from 5 to 95 %rh. Due to the internally installed humidifier as well as the dry cartridge, the humidity values can be precisely controlled. A constant control is carried out by a reference sensor integrated in the measuring chamber.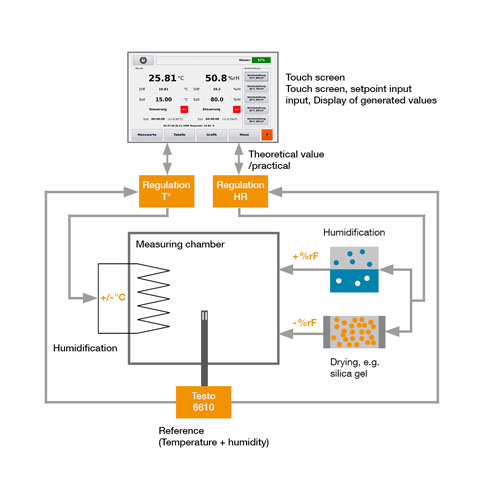 Principle of the two-quantity generator
The Huminator II functions according to the principle of the two-quantity generator. The desired humidity and temperature points can be set automatically on the device by programming a sequence. calibrations can be conveniently performed in two different ways. It is possible to change the settings directly on the resistive touch display of the Huminator II or to control them via the available USB or Ethernet interfaces on a computer.
Information about Huminator II
Here you will find the technical data and the operating instructions as well as the brochure of the humidity generator Huminator II.