Interesting facts from the field of GxP
The knowledge area GxP Basics answers questions about GxP Compliance. You will find information on the relevant standards and guidelines and the requirements for GMP compliant documentation.
What is meant by GxP?
GxP is the umbrella term for specific GMP-regulated sub-areas, such as:
GMP = Good Manufacturing Practice
GSP = Good Storage Practice
GDP = Good Distribution Practice
GEP = Good Engineering Practice
GAMP = Good Automated Manufacturing Practice
Which standards and guidelines play a role in the GMP environment?
Overview of the most important regulations in the GMP environment:
National regulations for the United Kingdom: Human Medicines Regulations Act (HMR) / Ordinance on the Manufacture of Medicinal Products and Active Substances (AMWHV)
EU régulations: EU-GMP Guideline Part I-III incl. Annexes
U.S. Regs: FDA Code of Federal Regulations (CFR)
International Regulations: ICH Guidelines, PIC/S Guides, ISPE Guides
Which industries operate in a GMP-regulated environment?
These industries must comply with GMP guidelines and standards:
What requirements must GMP compliant documentation meet?
GMP-compliant documentation must meet these requirements:
It must be in writing.
It must be correct and complete.
It must be clearly formulated and always kept up to date.
It must always be available.
The documentation must be released and signed by the responsible quality representative.
How is risk management defined in the ICH Q9 guideline?
The risk management process is described in Guideline ICH Q9, which is firmly anchored in Part III of the EU GMP Guide. Its aim is to establish a comprehensive process of risk assessment, control and monitoring (see figure below) throughout the product life cycle, thereby bringing potential errors and hazards to product quality under control. Many of these measures are identified in the course of risk analyses (e.g. FMEA) and implemented in the course of qualification and validation. In the GxP environment, one therefore often speaks of risk-based qualification and risk-based validation.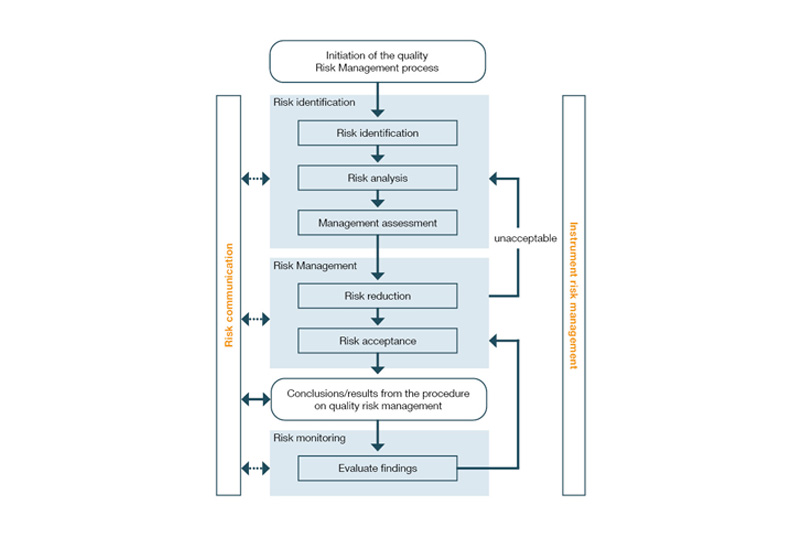 What are the principles of risk management in GxP-regulated areas?
The following principles should be observed:
The assessment of quality risks should be based on scientific evidence and always be seen against the background of patient protection.
The level of effort, formalities and documentation of the quality risk management process should be appropriate to the risk level
What are the objectives of risk management in GxP-regulated areas?
Weaknesses and risks with regard to product quality and patient safety are to be uncovered.
Decisions should be made rationally and comprehensibly
Quality control and steering measures are to be defined on the basis of risk
Promote interdisciplinary exchange for improved risk identification
Errors are to be proactively and preventively avoided or controlled
Decision-making processes should be transparent for all parties involved, e.g. also vis-à-vis authorities.
Which method is suitable for risk analyses of companies with GxP compliance requirements?
The FMEA method (FMEA = Failure Mode and Effects Analysis) is often used for risk analyses. The advantage of this is that it can also depict very extensive considerations in a structured manner. However, it can also be helpful, especially with more complex processes or plants, to first apply brainstorming methods such as the Ishikawa diagram or fishbone diagram.