Innovations and enhancements to our PRIMAS IT solutions
Reliable test equipment management is the basis for your results and high product quality. With our PRIMAS test equipment management solution, we provide support in monitoring your test equipment requirements.
New standards and requirements make it necessary for us to continuously develop our test equipment management software according to your requirements. So that you do not lose track of the multitude of new functionalities, we have summarised the new features of our PRIMAS IT solutions for you.
Functional enhancements in PRIMAS online and mobile
Further test equipment reminder
Would you like to be reminded of other tests in addition to calibration? This is possible, for example, for TRBS tests of equipment, electrical tests or verification of measuring equipment!
Your additional test can be stored for all types of test equipment. With its own status and cycle as well as its own waiting time, you can set a one-step reminder for each piece of equipment.
Mass change with an Excel list
In addition to the already existing possibility to carry out multiple changes to the gauge stock directly within PRIMAS online, mass changes can now also be carried out via an import list. This makes it possible for PRIMAS online users to make changes to up to 300 pieces of equipment via a mass import with an Excel list. The import list can be created, checked and imported directly.
Further functional enhancements
Avoid extra work due to incorrect test results and keep an eye on the measured values of your test equipment. With the additional functions tolerance utilisation and measured value analysis in PRIMAS online, you can select and analyse your critical test equipment and its measured values easily and intuitively.
The tolerance utilisation offers you the possibility to filter for test equipment with reached warning limits. The relevant test equipment can be selected via a multiple selection.
And with the help of the measured value analysis, you can analyse them in detail and derive a forecast for the next calibration.
Based on the calibration results, you can use the new function to decide at the touch of a button whether the test equipment is suitable for the desired application. The individual release can only be carried out by authorized persons according to your authorisation concept. The new function of "equipment release" is implemented in practice with a simple button. Up to now, your test equipment has automatically received the status "released" after a calibration. After implementation of the new function in your PRIMAS system, you have the possibility to set the selected test equipment to the status "Waiting for release" after a successful calibration.
Authorized persons in your company can now change the status directly in PRIMAS and actively release the test equipment for use. Previous manual expenses are eliminated with this function. We offer you a traceable release process for your test equipment with a onetime charge.
The processing of test equipment is greatly simplified and, above all, accelerated by the multiple change function. You can now make changes to several entries within your test equipment lists without having to save them individually each time. After making multiple changes to your dataset, you will only save once in the future. All changed data of all processed test equipment is transferred at once and automatically stored in the system.
In your calibration agreements with Testo Industrial Services, you decide in advance whether Testo Industrial Services should check the due date of your test equipment. Within PRIMAS online you can recognize your individual settings at any time. In this context, escalation means the chronological sequence of the test equipment status from the call before the due date via reminder and dunning up to the blocking of the test equipment.
As part of such an escalation, you will be sent PDF documents containing a list of the test equipment that is due. As of today, it is also possible to receive the contents of the escalation messages as a CSV file. This makes it easier for you to continue processing the due lists electronically and to handle the escalation documents.
The monitoring process, which runs automatically in the background, now offers extended options in terms of notification. From now on, the different areas/departments in your company can define different definitions for the notification in the escalation scenario. You are welcome to contact the PRIMAS team directly. We will explain the details of this new feature.
Who are your key contacts at Testo Industrial Services GmbH? On the start page of your PRIMAS online account you will find at a glance the bundled information and contact details of your personal contacts and service centres at Testo Industrial Services.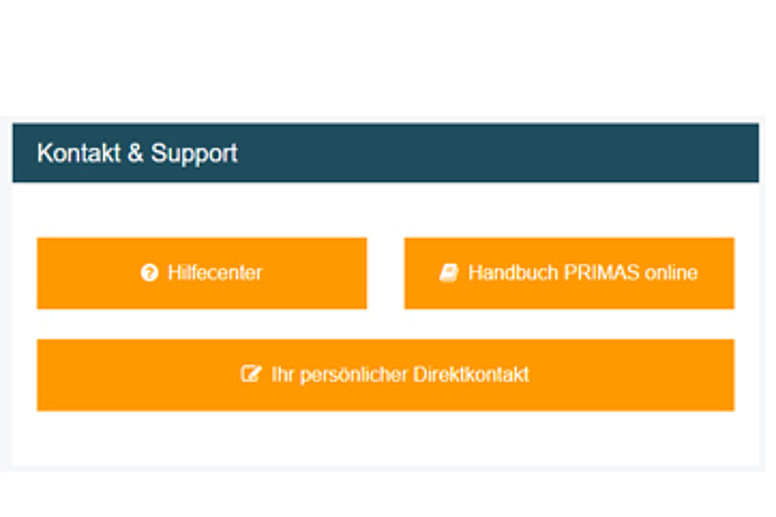 To help you organize the assignment of your test equipment stock even better, you can now find an additional partner function in the test equipment supplement data. Within the partner functions, you can assign persons/employees who are to receive escalation messages. The partner functions can be assigned individually for each piece of equipment. Also this, meanwhile 6. Partner function, is adaptable in the usual way to the word usage in your company.
All partner functions at a glance:
Person responsible for test equipment
Users
Main user
Quality Assurance Manager
Representation
Coordinator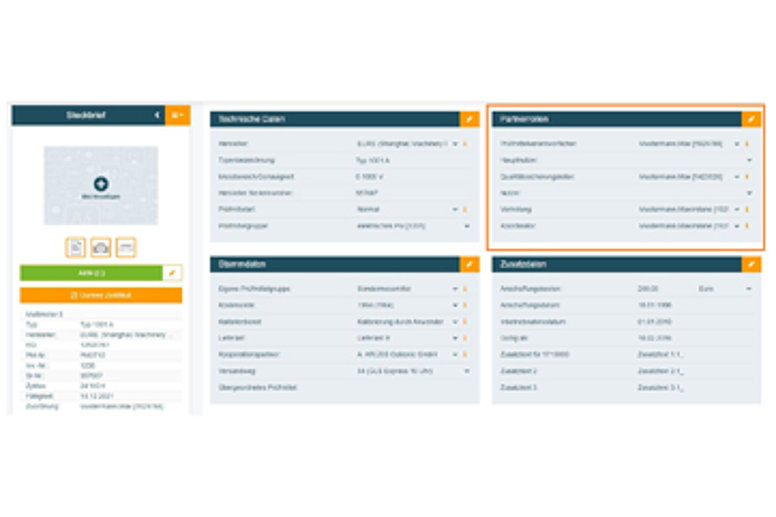 💡 Good to know
To make working with PRIMAS online easier, we are constantly providing you with functional enhancements. You can find all the information in our "Good to know" section:
Did you know that you can now also insert a list of search parameters (e.g. several rooms) via the clipboard in the test equipment search? In addition, the search fields test equipment number, serial number, inventory number and equipment number can now also be controlled with an externally connected scanner.

We also make it easier for you to create your delivery bill: It is now possible to change the sender individually within the delivery bill.
Using the new global search, it is also possible to search for all (partial) contents of the entire customer database. With this search, you can search globally for any content within your test equipment as well as under the master data, operations and cockpit entries.
In addition, the expert search makes it easier to find individual persons within the test equipment inventory without knowing their role. You can search for test equipment in which the selected contact person name is specified in one of the six partner functions. In addition, within the six available partner functions, all equipment can be determined where no contact person is stored.

Would you like to call up your last search query again? No problem, you can now use the various search options to call up your last search query again.
Function extension in PRIMAS connect
Extension of the certificate download
With the extension of the certificate download, you also have the option of retrieving any certificate for a piece of equipment via PRIMAS connect. By specifying the equipment number with the certificate number, you can now access not only the last certificate but also the certificates in the history.
Retrieving measurement data in PRIMAS connect
From now on you also have the possibility to retrieve measurement data in PRIMAS connect and to digitally access individual contents of the calibration certificate. This function allows access to the complete measurement data table of the calibration as well as to further information of the calibration, which is also indicated on the certificate. The output is independent of the respective measured variable in a uniform XML format that can be digitally processed. This allows you to control automated processes in your company depending on the calibration results.
Create or change test equipment
In PRIMAS connect, it is now also possible to create equipment or to change existing equipment.
When creating a piece of equipment, you can enter important master data for unique identification of the equipment, which is then automatically stored in the newly created equipment.
Via the service for changing existing equipment, your system can control changes to the most important master data of a piece of test equipment via a web service call.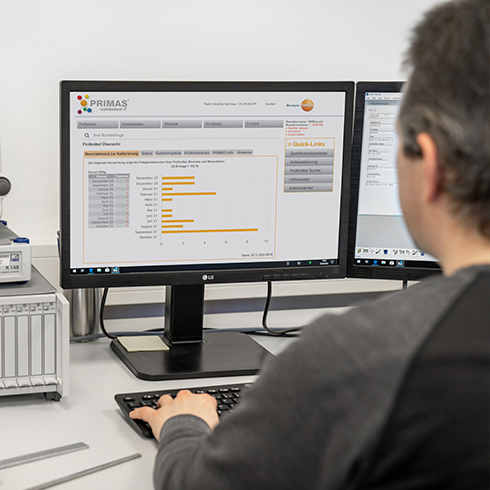 Validated test equipment management with PRIMAS validated
The Validation ensures and documents the most important properties of processes - reproducibility and robustness. In GxP regulated industries such as the pharmaceutical industry and medical technology, validation is a prerequisite for the use of quality-relevant computer systems and software. Therefore, we are pleased to announce that a validation-enabled version of PRIMAS online with customised validation packages will be available in the first half of 2021. For further questions about PRIMAS validated please contact our Experts at your disposal.
Do you have any questions? We would be pleased to give you an insight into PRIMAS online. Arrange an individual appointment with us today presentation appointment with our PRIMAS experts and find out about our innovations.
Our test equipment management IT solutions
Portal
Benefit from the Testo Industrial Services portal - from order tracking, monitoring of delivery dates, faster quotation requests to the processing of cost estimates. Register free of charge and centrally manage all information relating to your order process.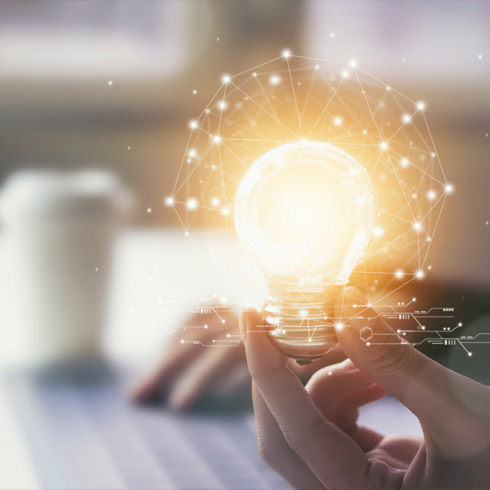 Know-how
Our know-how summarized for you:
In our Knowledge Center you will find helpful know-how from our experts on the subject of test equipment management and calibration.
To read
Discover our comprehensive service portfolio. As a full-service provider in the field of measurement technology, we are your optimal calibration service provider.